A little bit about Stacy Hawkins Adams–she is an award-winning author, journalist and book coach who weaves tales in fiction and nonfiction that help readers gain confidence in their own stories. She has penned eight faith-based novels that highlight women's friendships, personal growth and unconditional love, and one nonfiction devotional book. Her recent novels include "The Someday List," "Lead Me Home" and an anniversary edition of the acclaimed "Watercolored Pearls." Stacy also serves as the parenting columnist for the daily newspaper in Richmond, Va. and is a sought-after speaker. Her tenth book is slated for release in fall 2015.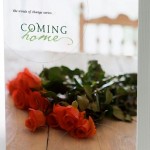 Let's hear what Stacy has on her mind…
You have been a successful author for a while now. How have the changes in the publishing industry impacted your career? What is the hardest writing career decision you have made?
Thank you for featuring me, Jeanette. I'm honored to share my work with your audience, and also that you've followed my writing journey so faithfully over the years.
In answer to your question, I've found the changes in the publishing industry since my first book was published in 2004 to be exciting. The explosion of social media gave me and other authors a new way of connecting with our readers, in addition to traditional book signings and book club events, and that has been wonderful. The rise of ebooks was unfamiliar territory, but has turned out to be a great avenue for reaching new readers, and for creating a venue for self-publishing that otherwise wouldn't have been possible. I am among the many traditionally-published authors (with agents and contracts with publishing houses) who is also delving into the self-publishing arena with a few projects; so it has been great to explore and benefit from both paths.
The hardest writing career decision I've made so far has been one that I haven't regretted: Limiting my author travel in favor of being a fully present mom. Because my family and I live in an area with no extended family, I made a decision early on in my career to limit frequent travels to promote my books until my children were older. I do travel some, especially in the four-to-five-state region around Virginia, where I live; but I try not to be airport-bound for at least six weeks at a time. I might have made a different decision if my parents or in-laws were living close by to assist with their care, but my daughter was 6 and my son was 3 when my first novel was published, and I wanted to enjoy that season of their lives, as well as the many that have followed. In the early years of my career, they traveled to many author events with me. As they've grown and their important school and extracurricular activities have limited their free time on weekends, I've altered my schedule to be a supportive mom, while also doing my best to connect with my beloved readers. But "mom duty" has taken precedence, and I have no regrets about that choice. Being able to connect with readers on Facebook and Twitter, and through my author newsletters and special events has been a wonderful way to stay in touch with them, and when my "babies" fly the coop, so will I! Lol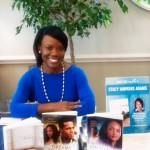 With the many challenges and changes in the publishing industry, do you find yourself redefining your definition of success?
Yes! Like many new authors, I started out with a definition of success that didn't include anything less than having all of my books chart the New York Timesbestsellers list. Over the years, however, I'm come to realize that success for me actually means reaching as many readers as I who can who will be empowered and transformed by the words I've written. By that standard, success is achieved every time a reader emails me, or shares with me at an event how she (or he) made a better choice, or renewed their hope, or re-established a relationship after reading one or more of my books. It's humbling and amazing. These days I still aim for that New York Times status, mind you! But if I'm raising healthy and happy children, doing work I love, and feel confident that my written and spoken words are making a positive and powerful difference, then I am blessed.
The message of hope in your books is almost like a ministry of sorts. Do you find that in today's society where people are almost overwhelmed with negativity, that people are still receptive to the concept of hope?
Yes, I do find that people still crave words of hope, and they often tell me that the ones I share reach them at just the right time. I think the message of hope is still relevant because many people are overwhelmed with negativity and with pressure in our society to be "all that" – rich, famous, beautiful and perfect. I do my best to share themes, plots and characters that remind readers that despite the difficult or challenging places life sometimes brings us to, there are ways to push through, and there are God-sent earthly angels to walk with them. I think words of hope also remind others that even when they feel like they're the only ones going through something, they're not, and that can be encouraging.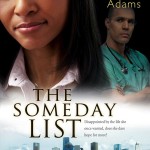 Being a master at multi-tasking, how do you manage your various writing, speaking and coaching activities while maintaining a busy schedule with your family?
It is indeed a challenge, but when you're doing something you're passionate about, and that you believe is truly making a difference, it doesn't feel burdensome. I just do my best to prioritize each day what needs to come first and what will have the most impact, and then pray for patience from others and for grace with the rest. I also don't do all of these things at once! If I'm in a book-writing season, I'm likely doing very little public speaking; and I only teach my six-week teleconference courses twice a year, for example.
There are many people can't wait to publish their bestseller, in your coaching sessions how do present the writing industry in a realistic light?
I tell them the truth about the competition in getting published by a traditional publisher and also the odds stacked against them as a self-published author. I give them info on how many books are published each year, and sometimes each month. There's a lot being published! We talk about the realities of being a writer and also needing to wear the marketing and business hats. Even so, I tell them to follow their hearts and write the best books they can, for whatever audiences they're meant to reach. The rest will come as their schedules and personal efforts allow.
What do you want to be your literary legacy?
Wow, what a great question. I guess I'd like to be remembered as an encourager – through the written word (my books and other writings), through the spoken word (my speaking endeavors, personal coaching and mentoring) and through my deeds as an author, journalist and writing coach.  I hope I'll be remembered for writing books that helped readers find joy in their journeys and grow into the people God called them to be.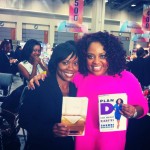 What can our readers look for from Stacy Hawkins Adams in 2015?
In addition to re-releasing my very first three novels in ebook form this year (Speak To My Heart, Nothing But the Right Thing and Watercolored Pearls), I'm also writing a couple of short stories that will be released in ebook form. And my 10th book – the third novel in the Winds of Change series – is slated for release in the fall. So I'm spending a lot of time in my "writing cave," and while Watercolored Pearls is already available for purchase, I can't wait to share these other projects with readers.
Learn more about Stacy and her body of work at: